Introduction
The volumetric preservation of bone and soft tissue after a tooth extraction has special relevance in the aesthetic zone when it will be rehabilitated by a dental implant. In type 2 defects, this extraction socket is defined as having the presence of facial soft tissue with a partial or complete dehiscence of the buccal bone plate,1,2 a variety of alveolar preservation techniques have been proposed to preserved or recreated the original dimensions of the ridge when the tooth was present. In these techniques, bone graft materials have been used with and without barrier membranes, however, it has not yet been defined with has better predictability. Currently, the flapless ice cream cone technique described by Elian et al.,1 has shown very good results; in some studies with this technique 1,3,4,5,6 they found very low losses in bone thickness after alveolar preservation.
Due to this, the objective of this paper was to describe the prosthodontics treatment in a socket with advanced buccal bone resorption, with a flapless technique for guided bone regeneration (GBR) and with a dental implant and implant-supported single fixed prosthesis.
Case presentation
62-year-old male patient, with stands for American Society of Anesthesiologists Classification 2 and arterial hypertension medicated with Enalapril 20 mg/day, partially dentate. The radiographic exam showed the presence of advanced buccal bone resorption in relation to the maxillary left lateral incisor (Tooth 2.2). It was a result of the root displacement secondary to root fracture (Fig. 1, A). The patient's main complaint was aesthetic.
In a first surgical phase the lateral incisor was extracted using an atraumatic periotome technique (Fig. 1, B and C). A resorbable collagen membrane (BioMend Extend, Zimmer Biomet Dental, Palm Beach Gardens, FL) (15 mm x 20 mm) was adapted to the bone defect and placed in position to recreate the buccal plate (Fig. 1, D). Particulate cortical bone allograft (Puros Cortical Allograft Particulate, Zimmer Biomet Dental) (0,5 cc) was compacted into the site to fill the space that was previously occupied by the root of the tooth. The membrane sealed the space wrapping to palatal gingiva and it was retained in position with three horizontal mattress sutures (Fig. 2, A and B). Temporary restoration was performed using the extracted natural tooth, which was adhesively bonded to the adjacent teeth (Fig. 2, C and D).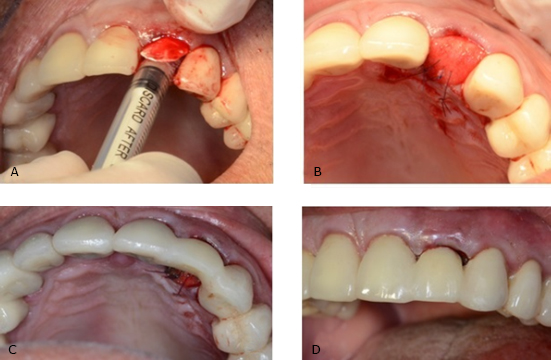 Four months after grafting the extraction site in preparation for dental implant placement, conventional radiology and CBCT showed an adequate height and width of the bone (Fig. 3, A).
In a second surgical phase, one implant was placed (Screw-Vent, Zimmer Biomet Dental) (3.3 x 16 mm) with an average surgical torque of 35 Ncm. Six months after the implant placement was radiographically controlled, osseointegration was clinically confirmed and a provisional crown screwed on the implant was performed. After several stages, the final restoration with a zirconium dioxide abutment and a full ceramic crown was obtained and cemented (Fig. 3, B).
Discussion
The ice cream cone technique for alveolar preservation used in this clinical situation, showed to be adequate to rebuilt and maintenance the remain buccal plate in type 2 defects. This prevents the collapse of the buccal tissue plate creating a new buccal bone plate and then avoiding the aesthetic problem that causes. In fact , researches about the buccolingual dimensional changes of the extraction socket using the "Ice Cream Cone" technique conclude that this technique is an easy approach that results in better horizontal regeneration of the buccal bone plate.6
This technique avoids making flaps with the possibility of soft tissue retraction, in addition to being a relatively easy practice, which allows reducing the operative times for the clinician and patients.1,5
In addition, bone regeneration with this technique allowed an adequate surgical torque and thus be able to perform an immediate temporary crown.
Although, research on this technique is still limited, the studies that have been conducted so far have shown satisfactory results1,6 in relation to other procedures described like "Cytocone Procedure".3 This is a modification of the original Ice cream cone technique". A nonresorbable d-PTFE barrier is placed in and over a socket tipe II that has received a bone graft without a buccal flap being raised. The author of the paper said that for this technique Its major benefit compared to the original technique is the use of a nonresorbable barrier (ie, d-PTFE).7 This eliminates the possibility of premature barrier resorption by salivary enzymes, which can cause loss of bone graft material, interrupt the process of GBR, and result in a deformed ridge vertically or horizontally.3,7
GBR is based on the principle that a barrier membrane is used for space maintenance over a defect, promoting the ingrowth of osteogenic cells and preventing migration of undesired cells from the overlying soft tissues into the wound. Protection of a blood clot in the defect, exclusion of gingival connective tissue, and provision of a secluded space into which osteo- genic cells from the bone can mi- grate are essential for a successful outcome.6
Because the Cytocone technique uses a nonresorbable barrier, the clinician is able to dictate how long the barrier remains in place. Usually it is retained for 5 to 6 weeks to ensure predictable GBR. This interval allows enough time for osteoid formation and connective tissue coverage of the socket opening. After barrier removal, the epithelium migrates across the connective tissue within 2 weeks. Epithelium travels approximately 0.5 mm to 1 mm per day.3
As previously discussed, if the ice cream cone technique is performed with a resorbable barrier, the barrier may degrade prematurely, which can result in incomplete GBR. In contrast, the Cytocone procedure assists bone regeneration without compromising esthetics; and, furthermore, patients have minimal discomfort.3
Clinicians have several choices with respect to treatment planning a case if an implant is going to be inserted to replace a hopeless tooth that is adjacent to buccal bony dehiscence. After an extraction, a GBR procedure (bone graft plus a barrier) can be accomplished with a traditional nonresorbable barrier (e-PTFE) in conjunction with primary closure, or a d-PTFE or resorbable barrier can be employed without primary closure like as was showed in original "Ice cream cone technique".1 As discussed, the ice cream cone technique or the Cytocone procedure can be used to regenerate bone prior to placing an implant, or implantation can be performed in conjunction with a GBR procedure.1,2,3 All of these procedures have advantages and limitations.
Other modifications from the original technique have been proposed to try to optimize the results.2,8
Conclusions
The regeneration of the buccal plate was possible through the use of particulate cortical bone allograft and a resorbable collagen membrane adapted to the bone defect and placed in a position to recreate the buccal plate. This allowed the installation of an implant (3.3 mm x 16 mm) 4 months later the procedure. This technique allowed esthetics and functional results using a single fixed prosthesis.