Mountain areas are considered as the most sensitive ecosystems to climate changes and the most vulnerable to ecological unbalance, provoked by human and natural factors (Ramírez 2010). In Cuba, improper cattle rearing practices have stimulated the development of intermediate processes of soil degradation, even when these ecosystems, due to their own characteristics and exposition to weather inclemency, are considered as degraded, with low fertility and unproductiveness (Ramírez 2010).
Under the eastern conditions of the country, Benítez et al. (2007) demonstrated the impractical of developing a mountain cattle rearing due to the slope effect (≥ 25 %) and unproductiveness of the soil. In addition, these authors confirmed the negative effect of this activity on the ecosystem, which was identified as fragile and less compatible to cattle rearing activity. They recognized that, in the massifs of the eastern region, only 19 % of the area for cattle rearing in Sierra Maestra is compatible to the grazing practice. Likewise, only 33.7 % of Nipe-Sagua-Baracoa massif is compatible.
With these antecedents, leaders of cattle rearing activity in the mountain should look and establish alternatives for cattle production, in order to fulfill mountain people needs. Pre-mountain may constitute an ecosystem that could develop cattle activity, but, at the same time, is a fragile ecosystem that cannot be overexploited. Therefore, new grass varieties should be introduced to be in harmony with the ecosystem and its systemic services, with substantial biomass production and persistence to possible stress conditions like drought.
One of the alternatives is the use of new varieties of Cenchrus purpureus, obtained by tissue culture from CT-115, with tolerance to drought and that, under plain conditions, have demonstrated a promising performance compared to its progenitor (Arias 2012 and Ray et al. 2016). Because climate conditions favor the development of pastures, these new varieties could constitute an alternative for animal feeding. If they are favorably established under these edaphoclimatic conditions and, later, in the homogenization cut, the response in structure and productivity fulfills the possible demands established for forage species.
The objective of this study was to evaluate the establishment, development and productivity of new varieties of Cenchrus purpureus in pre-mountain ecosystems.
Materials and Methods
Locality, climate and soil. This research was developed between June and December, 2011, in the farm El Porvenir of the CCS Fortalecida "Braulio Coroneaux", Consejo Popular "Loma de Piedra", in Guisa municipality. This area is located in the low basin of Cauto river, at 6 km of Guisa city, and shows slopes from 0 to 20 %, which are medium undulated (SIG Sierra Maestra 2006).
The weather in the area of the farm is classified as relatively humid tropical, being the most extended climate of Cuban pre-mountain. It is characterized by having well defined rainy and dry seasons. Precipitations of 858.3 mm (figure 1) are reported, with periods of intense drought in dry season (November-April). Relative humidity in the areas is 78 % and mean temperature was around 25.4 °C during the year.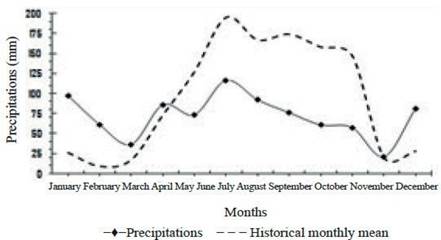 Soil of the experimental area is brown with carbonates, according to the new version of genetic classification of soils in Cuba (Hernández et al., 2015). Chemical characteristics of the soil indicate that, according to Lopes et al. (2016), is moderately acid, with low levels of phosphoric acid and acceptable concentration of potassium oxide. Organic matter content id fairly low (table 1).
Used plant material. For the establishment of experimental plots, the plant material (CT-601, CT-603 and CT-605) was provided by the Instituto de Investigaciones Agropecuarias (IIA) "Jorge Dimitrov", which obtained these varieties by donation of the Institute of Animal Science, from the variety Cuba CT-115. Varieties were established in seed banks at the Estación Experimental de Pastos y Forrajes del IIA, where they are currently located for their evaluation, introduction and extension in cattle rearing areas.
Treatment, design and statistical analysis. As treatment, four varieties of Cenchrus purpureus were evaluate, distributed in a random block design with four replications. For the statistical analysis, the package STATISTICA, version 10.0 (StatSoft 2010) was used. Normality of experimental data (percentage of germination, number of leaves and leaf length, number of internodes and internode length and yield of DM of leaves and total) was confirmed through the test of Kolmogorov-Smirnov (Massey 1951) and variance homogeneity was determined with Bartlett (StatSoft 2010) test. Analyses of variance were performed according to the mathematical model of the used design, in which the effect of variety on germination, morphological and physiological variables, structural and total yield were controlled. For comparing means, Keuls (Keuls 1952) test was used. In order to determine growth curve of studied variables, a multiple linear regression analysis was performed using the age and height of the plant. Logistical and Gompertz models were used, where:
Logistical Model
[TeX:]

Y = a/ (1+bexp (-cx))
Gompertz Model:
[TeX:]

Y =a exp (-exp (b-(cx))
For better fit, it was selected the one with high R2 value, high significance, low standard error of parameters and estimation, low mean square of the error and significant contribution of equation parameters.
Experimental procedure. An area in the plateau was selected, in which the minimal preparations of soil (ploughing, crossing and furrowing) was carried out with the use of animalsin the month of June, in order to reduce the possible negative effect on the ecosystem. Agamic seeds were used for sowing, performed in July, in plots of 4 x 5 m wide, with density of 3 t per hectare. The number of planted buds was controlled and the number of sprouts was counted in different phases to determine germination percentage. For measurements, nine plants were taken per plot. Every 15 days, with a millimeter ruler, height was measured, considered from the base up to the apical cone, in order to determine growth variation during the establishment period of these varieties. The number of nodes and internodes was counted, and the length of the fourth internode and stem thickness were measured with a vernier caliper. The total number of leaves was counted, and, using a millimeter ruler of 1-meter long, in the fourth leave, the length was measured from the base to the apex, and the wide in three points (base, middle and apical area). Absolute growth rate (AGR) and relative growth rate (RGR) were evaluated from control of plant height, using the procedures described by De Armas et al. (1988).

In order to determine green mass (GM) and dry matter (DM) yields, the cut was carried out at 120 d, at a height of 15 cm, in order to obtain total volume for each plot. An amount of 50 cm of border effect in the headlands and one meter in the sides were discarded. In order to determine percentage of forage DM, a sample of 200 g was weighed in a balance of two plates. This sample was maintained for 72 h in a circulating air oven at 60 ºC.
Results and Discussion
When germination process was analyzed (figure 2), significant differences were obtained in the different evaluated ages among the varieties proposed for this study. The variety control CT-115 significantly surpassed the other varieties under study at 12 d of planted, with a value superior to 25 %. However, CT-603 shared superscripts with CT-115 and CT-601at 21 and 39 d, but CT-115 was superior to CT-601 in both periods. CT-605 was not equal or superior (P≤0.05) to the rest of studied varieties. All varieties increased gradually their germination and ranged from 42 to 56 % at 39 d.
This germination process, according to Herrera and Martínez (2006), is a characteristic of king grass, which is not simultaneously performed during the first days, and it is gradually developed, even after 28 d. Germination percentages surpassed those referred by Cruz et al. (2017) in salinity-tolerant cultivars (52-58 % of germination), under medium salinity conditions in Valle del Cauto, Cuba. They were also superior to those obtained by Díaz (2007) in cultivars tolerant to drought (23-60%) under conditions of intense seasonal drought. Taking into account these results, considering the conditions in which the experiment was developed (without irrigation and without fertilization) and the season of plantation (middle of rainy season), the response was caused by the exposition to natural soil fertility and climate factors during the establishment. Therefore, differences are mainly attributed to the climate of each ecosystem (pre-mountain and plain) (ONEI 2014), which influence on grass productivity (Ramírez 2010).
When growth curves of varieties during the establishment period (figure 3) were analyzed, they described a sigmoidal shape of growth of grasses reported by Voisin (1963). It was observed that during the establishment, varieties CT-603, CT-601 and CT-115 reached higher growth speed, with values ranging from 100 to 115 cm, respectively, at 60 d of age.
The lowest speed in this age belonged to CT-605, which reached a value of 55 cm, showing a late germination. Nevertheless, it reaches a recovery at 119 d, with 222 cm high. Values referred for CT-115, CT-601 and 603 surpass those pointed by Ledea et al. (2017) in varieties tolerant to salinity at the same age. However, those stated for CT-605 are inferior to those reported by the above authors. Results of growth dynamics regarding height also are superior to those obtained by Cordoví et al. (2013) and Fernández et al. (2015) in trees and grasses tolerant to drought, respectively. This is attributed to varieties of Cenchrus purpureus under pre-mountain conditions, which are favorable for its growth and development.
In the analysis of absolute growth rate (figure 4), it shows a sigmoidal performance that is accelerated from 35 d, with a meseta of values from 2 cm d-1 up to 77 d old, and an important decrease up to 119 d of age, except for CT-605 that did not have that performance. This previous fact is similarly shown for three varieties (CT-601, CT-603 and CT-115) out of the four evaluated. The specificity was shown by CT-605, with low initial growth speed, but with dry matter accumulation rhythms that guarantee a stable supply to animals under pre-mountain conditions. Growth value of the crop is inferior to that referred by Cruz et al. (2017), who obtained 1.4 cm day-1.
Values of absolute growth rate were similar to those stated by Ledea et al. (2017) under medium salinity conditions, and surpassed the reports of Díaz (2007) under intense seasonal drought conditions. This scheme locates the varieties under study in a favorable place for biomass and seed production, where climate and soil conditions are not limiting factors.
Values obtained in the range of 35 and 77 d were inferior to those stated by Rincón et al. (2007), when evaluated maize individually, in association with natural grasses. They were also lower than those obtained by Uvidia et al. (2013) under conditions of Amazonian ecosystem in Pennisetum purpureum cv. Maralfalfa for week five (35 d), eight (56 d) and 12 (84 d), with 4; 5.8 and 4 cm respectively. In these ecosystems, rain regime favors growth and development of the crop, compared to experimentation conditions, which suggests a high plasticity of the new varieties of the ecosystem into which they were introduced.
Regarding this performance, Herrera and Martínez (2006) reported that king grass grows 1.07 cm d-1 as average in Cuba. However, it should be highlighted that environmental conditions and soil factor influence on this response, and, under pre-mountain conditions, these factors determine growth of crops. Uvidia et al. (2013) stated that differences obtained it their study were attributed to the influence of different environmental stimulus. These authors report that activation of certain genes in plants stimulate a determined activity that, in concomitance with regulating and enzymatic factors, it should be manifested easily or not, which could be present in the analyzed effect. In addition, they referred a vigor characteristic of grasses, once they pass the initial stage of growth after planted, which is shown between 35 and 77 d.
Relative growth rate of varieties (figure 5) showed higher growth efficiency between 35 and 49 d, with values from 0.035 to 0.040cm cm-1 d-1. Between 49 and 77 d showed moderate levels of relative growth (0.018-0.025 cm cm-1 d-1), which decreased from this age (less than 0.01 cm cm-1 d-1), with a tendency similar to the one followed by the absolute growth rate.
A different performance was demonstrated by CT-605, which showed a slower decrease of relative growth rate in the range between 49 and 77 d. This is related to internal characteristics of the plant and modifications of climate conditions in the studied area. CT-603, although more discrete than CT-605, also showed a stimulus to increase RGR, and in the later periods (91-105 and 105-119 d), all unified growth response.
In the performance of morphological variables, which were influenced by the varieties effect in the establishment cut (table 2), there were differences (p<0.05) in the number of leaves, favorable to varieties CT-605, CT-601, CT-603, followed by the control CT-115. This is superior to reports of Díaz (2007), who observed values of 10 to 15 leaves in these varieties, which are similar to those stated by Ramírez (2010) also under pre-mountain conditions. Gómez et al. (2015), in a semi-warm weather pointed out lower number of leaves than that referred in this study.
A characteristic of varieties of this study is to have many leaves, which allows to generate a great amount of biomass, due to the narrow relationship between leaves, foliar area and photosynthetic efficiency (Chamorro et al. 2011). This trait also contributes to provide animals with the necessary nutritional elements for their growth and development (Álvarez et al. 2016) with chemical and nutritional quality, because there is, in the leaf, a proportion of soluble carbohydrates that is superior to that of structural carbohydrates (Ledea 2016), so digestibility will be better.
In leaf length, CT-115 was superior (p<0.001) to the rest of varieties, with 110 cm. CT-601 and CT-603were significantly different (p<0.001) from CT-605, which showed the lowest value. Arias (2012) obtained superior values for leaf length (112.4 cm) with irrigation and organic fertilization. Álvarez et al. (2016) also surpassed the referred means in this study (table 2). However, the cited authors pointed out that obtain differences were because of the effect of cut age, and not because of variety in the morphological performance of cultivars. This effect should be taken into consideration in future evaluations under pre- mountain conditions, where crops should modify their morphological performance.
CT-601 was favored (p≤0.05) by the number of nodes regarding the rest of varieties under study. CT-605 and control showed no statistical differences, and CT-603 demonstrated a mean value. Cruz et al. (2017) reported low number of nodes in cultivars tolerant to salinity. Fernández et al. (2015) stated that stem morphology is determined by processes of adaptation to edaphoclimatic conditions of adverse ecosystems. In this study, the number of nodes was determined by the characteristics of each of the evaluated varieties.
The number of nodes determines potentialities of varieties under study for seed production, due to the favorable edaphoclimatic conditions of pre-mountain. According to Calzada et al. (2014), nodes determine germination points when the plants are used as seed because these structures accumulate great amount of soluble carbohydrates that constitute the reserve of plants for sprout germination and formation of new tissues for their growth and development.
Total and leaf dry matter (DM) yield did not reach the statistical significance (table 3). However, means of total yield and leaf yield did not surpass those reached by Caballero et al. (2016), when they evaluated five grass species under edaphoclimatic conditions of the western area of Cuba during the rainy and dry periods, respectively, mainly due to differences in the regime and distribution of rains between both regions, regardless of the favorable conditions of pre-mountain climate. This condition caused Gómez et al. (2015) to have higher yields of dry matter per hectare in a semi-warm climate.
Regarding leaf yield, Chamorro et al. (2011) indicated that a great amount of leaves constitutes an indicator of quality of dry matter yield because favors quality of biomass by conversion of photoassimilates from photosynthetic efficiency and capacity.
It can be concluded that varieties of Cenchrus purpureus, under edaphoclimatic conditions of pre- mountain from the eastern area, show an adequate percentage of germination with development and growth. This propitiates favorable productions of dry matter at the uniformity cut.
It is recommended to evaluate the growth an structure of new varieties in different development moments under pre-mountain edaphic climatic conditions